Little House of Mercy:
Love and the Great War
Jamie Michele
On the eve of her engagement and on the cusp of a new life, Marjorie Mayfair makes a decision that will reshape her future and change her fate forever.
In the early days of WWI, America is insulated from the tragedies erupting across the Atlantic. While men and women die in foreign states, America keeps to itself, peaceful in the face of a humanitarian crisis few can truly comprehend. Yet Marjorie, a young woman of singular strength and determined will, finds her thoughts, heart, and soul wandering to this far away battle.
With no training and few skills, Marjorie gathers what resources she can and sets off on a journey with only one goal in mind…to help. Along the way she will meet new friends and advocates, people that guide her and help her find the niche her heart is meant to fill. Finally, in a small French village near the Front, Marjorie discovers her place and soon transforms it into a Little House of Mercy. There is food and comfort here, first aid, and a breath of peace to soldiers in desperate need.
Yet for all the mercy one house can provide, the war still rages, love still longs, and Marjorie's future still teeters on the edge of uncertainty.
Set at the dawn of WWI, Little House of Mercy: Love and the Great War is a reworking of the 1918 novel The Amazing Interlude by Mary Roberts Rinehart.
PLEASE PASS THE BOOKS REVIEW:
It happened. My happy, ugly cry revealed itself. Ugh. Why does it hurt
so good
?!
Little House of Mercy is my first official read of 2017...and I don't think I could've started with a better book. Set on the front line just outside of the French town of Dunkirk at the start of WWI, it mixes the inhumanity of war with a conflicted love story that is both beautiful and ridiculously difficult to put down.
Which means I also start 2017 with bags under my eyes. [cue ugly cry once more.]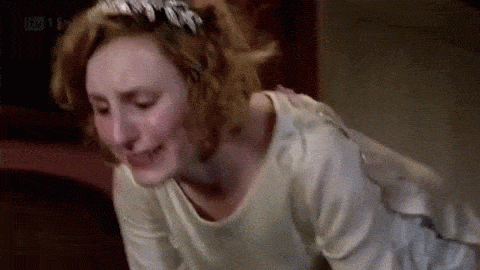 Marjorie is 19 and itching for more than her comfortable Pennsylvania home and the security her little fiance Bernard can offer. So off she goes, after a series of small struggles, to aid in a war nobody really understands quite yet in the states. Enter: Rene. Tall, blond, Belgian Rene. Rene helps establish Marjorie on the Front, where she provides soup and smiles at her Little House of Mercy. The world is literally falling apart around her, but Marjorie is able to stay the course despite troubles with an uncomfortable living situation, a love triangle, and the daily struggles of a village ravaged by war.
It's been a minute since I last read a book written in an omniscient POV, but LHOM is
masterful
with it...and once Marjorie was on the train in Ch3, it was full-speed ahead with my page-turning fingers. Little House of Mercy is incredibly engrossing and wonderfully, wonderfully composed. All of the characters, including the ancillary personalities, are well developed and endearing, with a substantial plot and all the right components to keep this emotionally layered gem in a reader's head long after the book is finished.
FIVE STARS
Jamie Michele
is a San Francisco born author who fell in love with a Londoner and promptly moved to England. When not researching, writing, or rewriting, she can usually be found on a picnic blanket in Bath, reading on the lawn out front of the Royal Crescent.
With a passion for out-of-print texts and access granted to literary archives that are restricted to most of the public, Jamie Michele is a frequent contributor to Project Gutenberg. She was awarded Editors' Choice by the Historical Novel Society for her work on Mount of Hope, resurrecting Frances Trollope's 1844 novel, Young Love.
Goodreads Book Giveaway
Giveaway offered by the publisher, Vintage Volumes, and ends January 06, 2017.
See the
giveaway details
at Goodreads.